The Feedback Pendulum, by Michael Chiles
What is the book about?
In this informative book, Michael Chiles, head of Geography Department at a secondary school in the North West, graces us with his expertise on the topic of feedback. He has done an extensive search of the literature, and, combining this with his own experience through years of teaching, provides his manifesto for enhancing feedback in education.
The book discusses the issues we see in feedback in education and explains approaches we might take to remedy this. As renowned education professor John Hattie says in the closing thoughts of the book, "it is not about increasing the amount of feedback that matters but increasing the effectiveness of feedback that matters."
Some key themes included are the purposes of feedback, the problem of written marking, and the emotional context of feedback. By touching on not only feedback given to students, but also feedback for teachers or parents, this book truly succeeds in capturing the bigger picture on the role feedback plays in supporting students' education.
Why read this book?
When you consider that feedback is any information that allows someone to improve, you'll realise that it is everywhere. It can be telling a student how they did on a piece of work; it can be a disapproving look when they misbehave; it can be laughing (or not) at someone's joke; or, as TLC Education Services managing director Chris Moyse references in the foreword, it can be comments on your driving.
Though feedback is weaved throughout our daily lives, it is often misunderstood and ineffective. Even with the best of intentions, we often don't know exactly how to make the feedback we provide 'click'. And where feedback is managed poorly, it can do more harm than good.
Getting feedback right has the power to unleash great success in education, and this book provides exact guidance for how to do just that – an invaluable resource.
Who is this book for?
This book provides insight for educators of all levels, including teachers, senior leaders, school leaders, and CPD providers.
An easy misconception would be that this book is only for schools who have made improving feedback a specific target. But this certainly isn't the case. Feedback is an integral part of learning – this book is relevant for all who work in education, at any level.
Evidence base
Chiles draws from several sources of evidence to provide the information in this book, which he references at the end of each chapter.
Not only has he done an extensive search of the literature, he also brings invaluable wisdom from his own teaching experience. In addition to this, he spotlights a breadth of experiences from educators in various roles from schools across the country. This gives the book a well-informed, yet also personal and relatable approach.
Usability
Through its 153 pages, The Feedback Pendulum provides thorough coverage of the current and desired use of feedback in education. This book strikes a perfect balance between digestible information and solid, well-researched content.
It expands with detail in the right places, leaving the reader confident on what action they can take next, as is the key to effective feedback.
This is helped by the well-structured and organised nature of the book, with its 4 chapters on:
The current process of feedback
Giving feedback to students
Giving feedback to teachers
Giving feedback to parents
The narrative of the book is clear to follow, the ideas presented are easy to digest, plus there are graphics to help clarify points. It even comes with some handy resources, such as the marking crib sheet provided by one teacher's spotlight.
Usefulness
We have explained why we believe feedback is so important in education. So, it isn't surprising that we would find a book that gives a detailed overview on using feedback effectively in schools extremely useful. Especially when you consider that getting school feedback right is one of the most important factors for student achievement, student life chances, and the well-being of educators.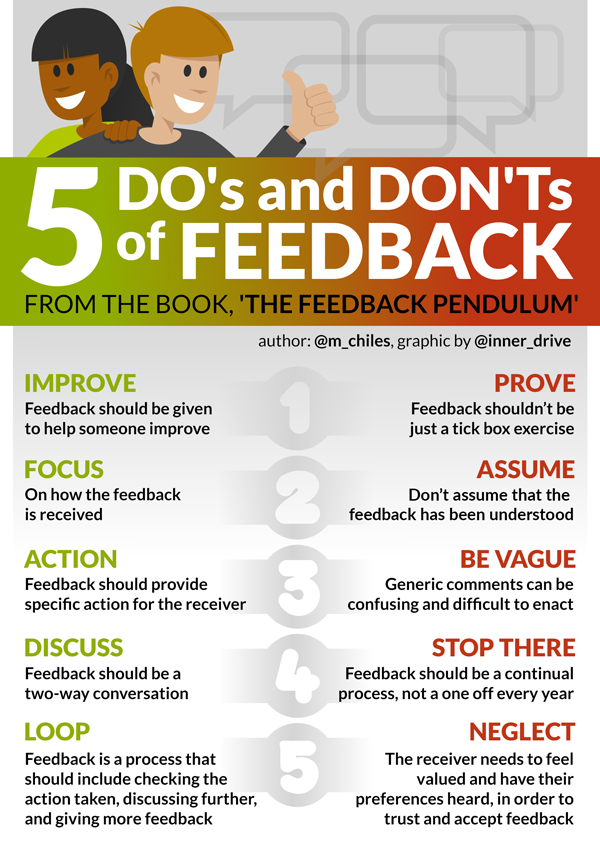 Value for money
This book is great value for money, available for only £17.25 on Bookshop.org.
Why we love this book
It addresses feedback issues and provides actionable information on how to move forward from them.
It combines research evidence with anecdotes of teacher experience to be both well-informed and relatable.
It provides an overview of the whole picture of feedback, including for teachers and parents, not just students.
It includes helpful graphics and resource templates.
Final thoughts
Using a sound base of research evidence combined with teacher experience, Michael Chiles has gifted all those who work in education with the ultimate guide to feedback. For us at InnerDrive, the true strength of The Feedback Pendulum is the ability it gives readers to take action on their feedback practice from the moment they put the book down.
Other books you might like
If you have already read this book or are looking to expand your knowledge of teaching practices further, we recommend reading:
Related resources
If you have limited time and are looking for something a little less comprehensive to read that will still allow you to make positive changes to your classroom, take a look at our research-based blogs for educators. Here are some our blogs most relevant to the topic of feedback: